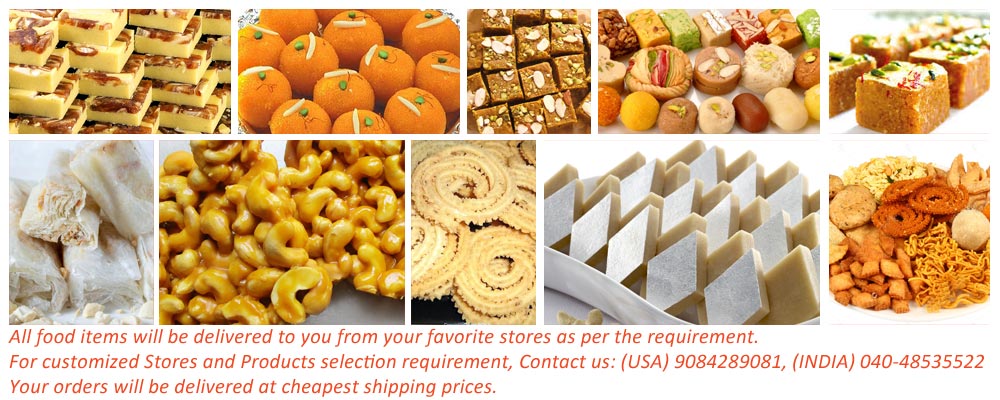 Indian Sweets
Indian sweets or Mithai is an integral part of every celebration and festival.
The irresistible Indian sweets are many from laddoo, soan papdi, pootharekulu, kaju kathli, kaju barfi to jalebi, and each has its own unique method of preparation and flavor.
Every happy occasion like baby birth, birthday, the festival to a wedding is celebrated with a distribution of sweets to the family and friends!!
DELICIOUS SWEETS TO MAKE YOUR EVENTS MUCH MORE SWEETER!!
Indian pickles
Indian pickle recipes are handed down through the generations.Pickling is one of the oldest methods of food preservation and was the only way to preserve various foods for future consumption.In India, unripe fruits such as mangoes, Indian gooseberry, unripe tamarinds, and lemons are traditionally used. Apart from these, various vegetables such as bitter gourd, carrots, cauliflower, ginger garlic, onion, jackfruit, and citron are also pickled.Non-vegetarian pickles are also popular. These pickles are made from chicken, fish, prawns, and mutton. These pickles are very delicious and relished by one and all.
Indian Chutney Powders
South Indian chutney powders are made from roasted dried lentils to be sprinkled on idlis, dosas and other South Indian breakfast items.Some other powders like curry leave's powder, gingelly seed powder is eaten with hot rice and ghee. Spices commonly used in chutney powder or gunpowder include fenugreek, coriander, cumin, and asafoetida. These powders are very flavorful, healthy, tasty and enjoyable by all the age groups.
Indian Snacks
Indian snacks play a significant role in Indian cuisine. Snack is a small portion of food generally eaten between meals.Serving tea with crispy snacks is an age-old tradition in India. The popular snack items include the khara boondi, mixture, chegodi, kachori, samosa, cashew pakoda etc etc..
Snacks are a famous pass time food during festivals and family get-togethers.
All food items will be delivered to you from your favorite stores as per the requirement.
For these customized Store and Product selection and requirement, Please contact INDIAETHNIX.COM at (USA) 215 853 3280.


No products were found matching your selection.