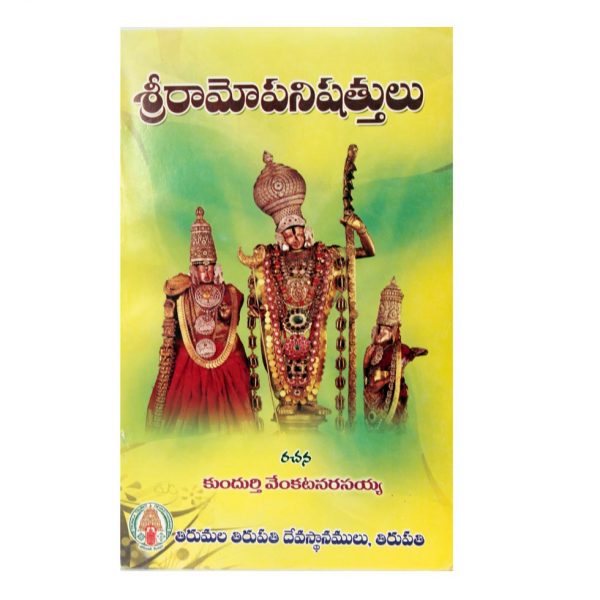 Sri Ramopanishatthulu Telugu
1.99$
FREE SHIPPING FOR ORDER ABOVE $149.
1 in stock (can be backordered)
Description
Sri Ramopanishatthulu Telugu
Product Description of Sri Ramopanishatthulu Telugu:
This book is written by Kundurthi venkatanarasaiah.
This book is from Tirumala Tirupathi Devasthanamulu, Tirupathi.
This is a late Upanishad exclusively devoted to the Hindu god Rama dated to have been composed in the modern era. The text is largely recited by Hanuman, who states that Rama is identical to the supreme unchanging reality Brahman, same as major Hindu deities, and the means to satcitananda and liberation. The text also includes sections on Tantra suggesting beej mantra based on Rama
Hanuman states god Rama is the supreme reality, the Brahman and the Atman (soul), and he is the medium to attain moksha or emancipation. The text presents goddess Sita, the wife of Rama, as the cause of creation, and Hanuman as the completely absorbed example and ideal devotee of Rama. Together, translates Lamb, Rama and Sita are asserted to be the source of all existence.
Hanuman advocates the importance of reciting the six syllabled Rama Mantra, Ram Ramaya namah.
The Indian ethnic book Sri Ramopanishatthulu Telugu is available online in USA at www.indiaethnix.com and will be shipped to your Home!
Disclaimer: The images shown are for reference only and actual product may vary sometimes, as IndiaEthnix Team always works to get better & quality products with utmost customer satisfaction!
Additional information