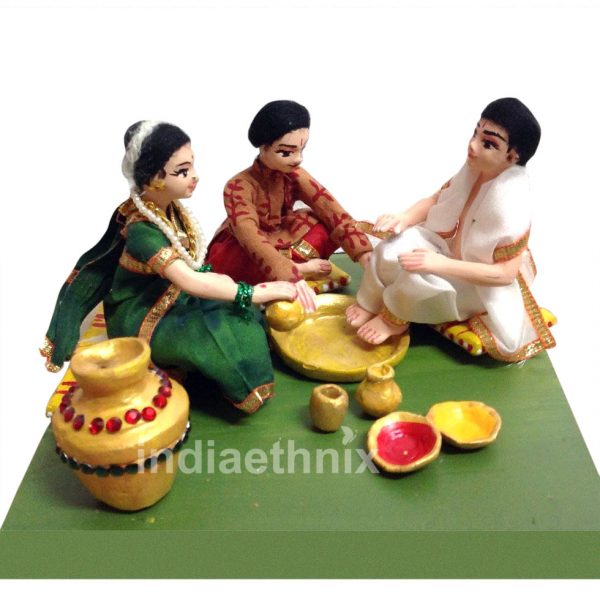 Wedding Doll Washing Groom Feet Scene
209.99$
FREE SHIPPING FOR ORDER ABOVE $75.00
1 in stock (can be backordered)
Description
Wedding Doll Washing Groom Feet Scene
Wedding Doll Washing Groom Feet Scene from Description:
Let your Homes, Events, Marriages, Theme parties etc., look graceful with these paper mache dolls.

The dolls are known for delicacy and what matches this is paper mache art. The mix of soaked paper and glue is put into molds of various shapes to make the dolls. Then, they are painted in different colors to make the doll look as graceful as possible.

Groom will be considered as the personification of Vishnu and puja performed to him as is performed to the almighty.  This is performed by the father of the bride. This doll represents the kanyadanam event where the bride's parents wash the groom's feet with water.

Eco-Friendly and Non-toxic
The Indian ethnic Wedding Doll Washing Groom Feet Scene is available online in the USA at www.indiaethnix.com and will be shipped to your Home!
Disclaimer: The product delivery may take time for 30-45 days due to the multi steps process involved over several days in making these precious dolls. The images shown are for reference only and actual product costume may vary sometimes.And IndiaEthnix Team always works to get better & quality products with utmost customer satisfaction!
Additional information
| | |
| --- | --- |
| Weight | .200 kg |
| Dimensions | 18 cm |
| Sets | 1 pc, 5 set, 10 set |
| Dolls | 11 Inches, 7 inches, 9 Inches |