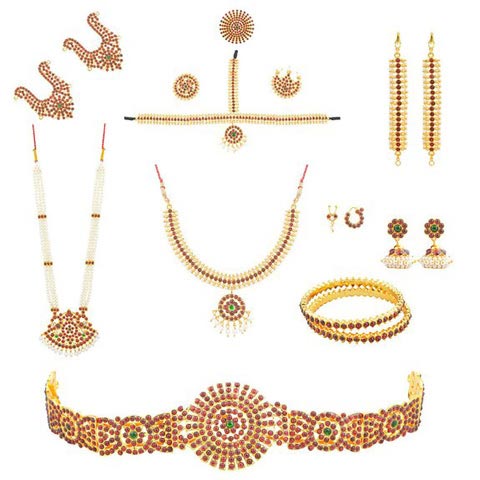 Classical Dance Ornaments Set
129.99$
FREE SHIPPING FOR ORDER ABOVE $75.00
In stock
Description
 Classical Dance Ornaments Set
Classical Dance is an ancient form of dance originating from South India. It is a very beautiful and spiritual art that is said to be one of the oldest in India. There are other classical Indian dances that represent all the different elements which are also quite spectacular to watch. There is much spirituality represented by this dance and you can think of it like a cosmic dance of creation.
This set consists of necklace, malai, bajuband, rokadi, bangles, mattal, jimikki, belt, nathu bullakku,

Kempu stones also known as temple jewelry which is widely used for classical dance and weddings Suitable for adults above 8 years Intricately designed.

These Ornaments set is used for the purpose of different classical dance forms.
The Indian ethnic  Classical Dance Ornaments Set is available online in the USA at www.indiaethnix.com and will be shipped to your Home!
Disclaimer: The images shown are for reference only and actual product costume may vary sometimes and the product delivery may take time for 30-45 days, as IndiaEthnix Team always works to get better & quality products with utmost customer satisfaction!
Additional information