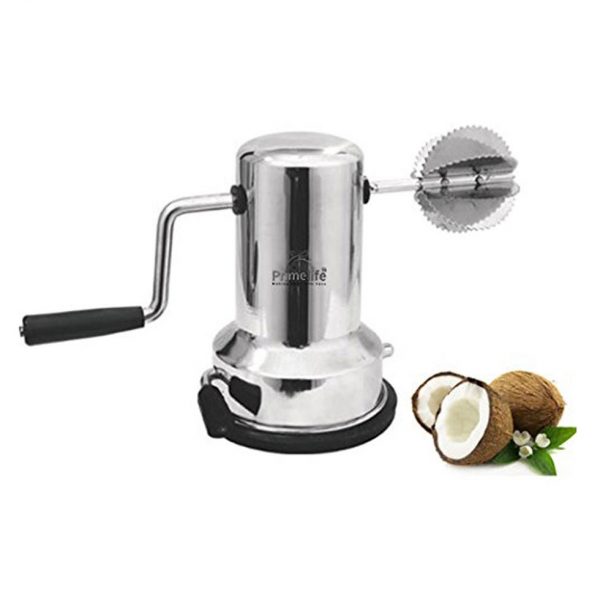 Coconut Scraper With Vacuum Base Stainless Steel
34.99$
5 in stock (can be backordered)
Description
Coconut Scraper With Vacuum Base Stainless Steel
Product Description of Coconut Scraper With Vacuum Base Stainless Steel:
Specially  designed handle for easy rotation, this coconut scraper from Capital grinds coconut flakes from one half of cut coconut to obtain fine coconut flakes. The coconut flakes are used for dressing on desserts like kheer, halwa etc., Grated coconut is also a part of ingredients used in making a lot of south Indian dishes. The scraper is easy to use, just hold the half cut coconut in your left hand and insert the blade in the coconut and start rotating the handle in clock wise direction. As the blade moves inside the coconut,it scrapes the coconut and gets accumulated in the base. The scrapper stays stable at one place while being used due to its vacuum base.
Product Details:
Stainless Steel Coconut Scraper With Vacuum Base.
Made of stainless steel.
The perfect staple in your kitchen.
Made from stainless steel, easy to maintain and Clean.
No electricity required.
Material:Stainless steel.
The Indian ethnic product-Coconut Scraper With Vacuum Base Stainless Steel is available online in USA at www.indiaethnix.com and will be shipped at your doorstep!
Disclaimer:The images shown are for reference only and actual product may vary some times, as IndiaEthnix Team always works to get better & quality products with utmost customer satisfaction!
Additional information