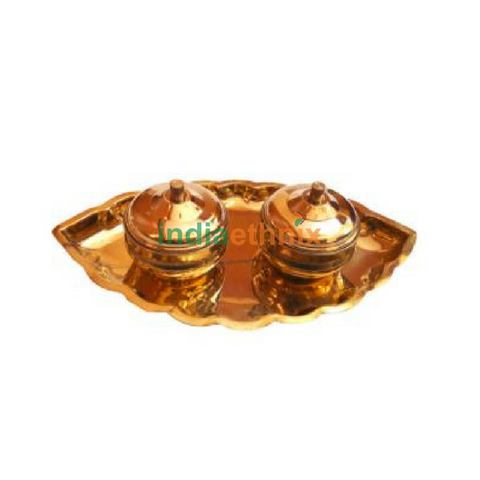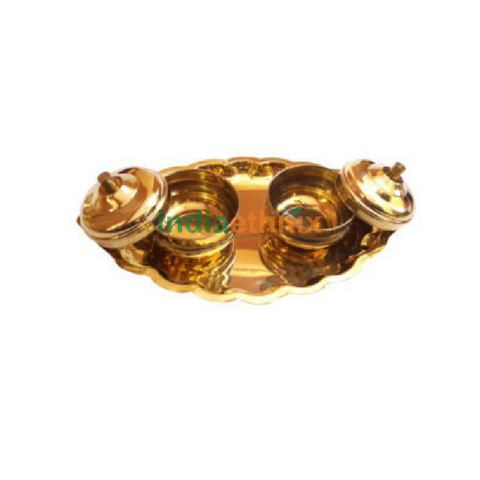 Conch Shaped Brass Haldi Kumkum Plate
5.99$
FREE SHIPPING FOR ORDER ABOVE $75.00
Min Quantity 5 pieces!
Plate:5.5 inches (L) x 4 inches (W)
Cups: 1 inches (H) x  1.5 Top Diameter
Weight: 65 grams
50 in stock (can be backordered)
Description
Conch Shaped Brass Haldi Kumkum Plate
Haldi-kumkum containers are essential for every puja ceremony. It comprises of 2 containers to hold Haldi and Kumkum. A designer set with a conch-shaped plate and two separate holders for haldi and kumkum.
Design: Made in brass with intricate design on the plate and fine finish.
Brass is well known for its grasping capacity. It grasps the divine spirit up to 30% when compared to other metals. Brass items are considered auspicious and widely used for all the spiritual and religious ceremonies.
The Indian ethnic Conch Shaped Brass Haldi Kumkum Plate is available online in USA at www.indiaethnix.com and will be shipped to your Home!
Disclaimer: The images shown are for reference only and actual product may vary sometimes, as India Ethnix Team always works to get better & quality products with utmost customer satisfaction!
Additional information