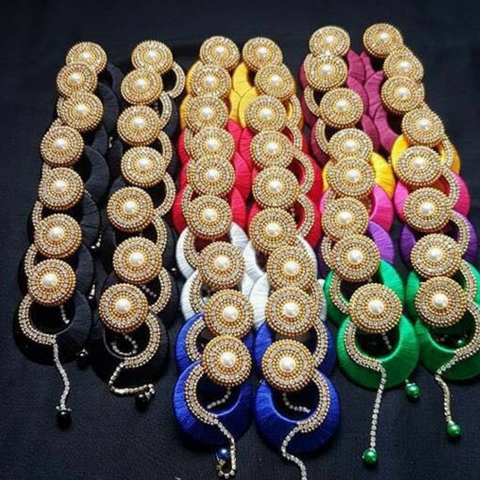 Customized Silk Thread Jumki Sets
3.99$
FREE SHIPPING FOR ORDER ABOVE $75.00
Minimum Order qty 25pcs
In stock
Description
Customized Silk Thread Jumki Sets
Product Description:
Silk is a very beautiful craft material that epitomizes luxury. silk Thread Jewelry is a classic design.Silk thread jewelry is a highly recommended jewelry style for the modern fashionable women. Silk thread jewelry is both traditional as well as the contemporary pattern of jewelry. We are leading manufacturer and suppliers of this handmade form of exquisite Silk thread jewelry in the market with best prices.
Special Service:
All Silk Thread Necklaces are available in mixed colors.
Customization will be done as per customer requirement for occasions.
Contact us for thread color customization of Silk Thread Necklaces.
We have a huge assortment of designer Indian fancy Silk Thread Jewelry. These are fabricated with beautiful design and quality accessories. Our Indian fancy silk Thread Jewelry is designed by a skillful craftsman who gives their artistic touch to lend the wearer an aura of fashion. Indian fancy silk Thread Jewelry is available in the range of all the possible colors, Vibrant colors, and Designs. Indian fancy silk Thread Jewelry is made by using the satin thread of high quality with shine & glow. Indian fancy silk Thread Jewelry is designed by using different materials also.
Features:
Latest trends
Designer pieces
High quality
Different colors available
Highly demanded
Highly comfortable
Unique design
Variety of Products
Superior Quality Silk Thread Jewelry
Vibrant Colors
Made with Silk Thread
The Indian ethnic product-Customized Silk Thread Jumki Sets are available online in the USA at www.indiaethnix.com and will be shipped at your doorstep!!!
Disclaimer: The images shown are for reference only and actual product may vary sometimes, as IndiaEthnix Team always works to get better & quality products with utmost customer satisfaction!
Additional information