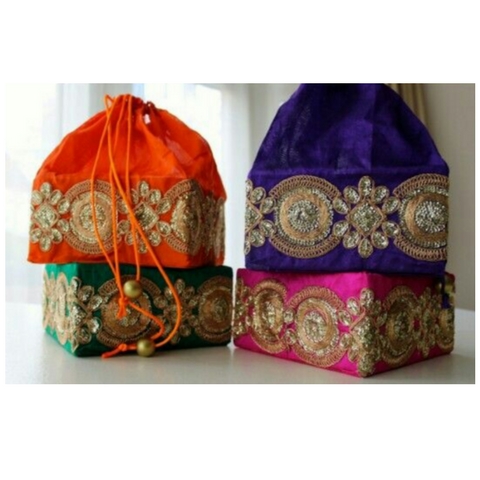 Ethnic Potli Bags
10.99$
FREE SHIPPING FOR ORDER ABOVE $75.00
Minimum Order qty 50 pcs
In stock
Description
Ethnic Potli Bags
A pretty Ethnic Potli Bags for your stylish ethnic wardrobe. Potli handbags adds elegance to your traditional outfits like lehenga choli,  saree, gaghra choli etc… They are equally  good with any casual Indian wear. These Potli bags are good for evening parties or some special occasions like wedding, temple and festivals. They are made with silk, hand  embroidery and beadwork.
Material – pure rawsilk
Capacity & Pockets – 1
Care & Disclaimer : Do not expose to extreme heat
Will go well with both Indian traditional wear for occasions like weddings, god bharai etc. Also perfect for handing over wedding return gifts to your guests.
The Indian ethnic product – Ethnic Potli Bags is available online in USA at www.indiaethnix.com and will be shipped at your doorstep!
Disclaimer: The images shown are for reference only and actual product may vary some times, as IndiaEthnix Team always works to get better & quality products with utmost customer satisfaction!
Additional information