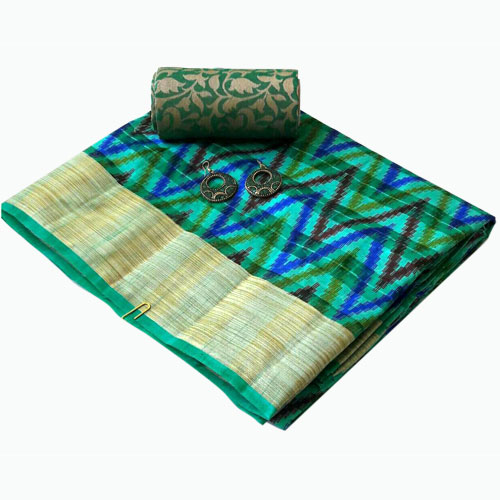 Jute Ikat Saree Teal-Green Color
53.99$
FREE SHIPPING FOR ORDER ABOVE $149.
In stock
Description
Jute Ikat Saree Teal-Green Color
The Jute Ikat Sarees come with geometric patterns in brilliant colors and a broad solid border. They come with an additional jacquard blouse and matching simple accessories.
Jute has excellent blending qualities with other fibers. It also readily accepts a variety of dyes, both natural and artificial making it a most favorable fabric to work with for the designers.
Ikat is a weaving style common to many world cultures. It is probably one of the oldest forms of textile decoration. In ikat, the resist is formed by binding individual yarns or bundles of yarns with a tight wrapping applied in the desired pattern. The yarns are then dyed. The bindings may then be altered to create a new pattern and the yarns dyed again with another color. This process may be repeated multiple times to produce elaborate, multicolored patterns. When the dyeing is finished all the bindings are removed and the yarns are woven into cloth.
The combination of the most favorite jute fabric with ikat weave makes this teal-green saree special and adorable. This saree will be a beautiful addition to your collection of sarees.
The Indian ethnic product- Jute Sarees are available online in the USA at www.indiaethnix.com and will be shipped at your doorstep!
Disclaimer: The images shown are for reference only and actual product may vary sometimes, as IndiaEthnix Team always works to get better & quality products with utmost customer satisfaction!
Additional information