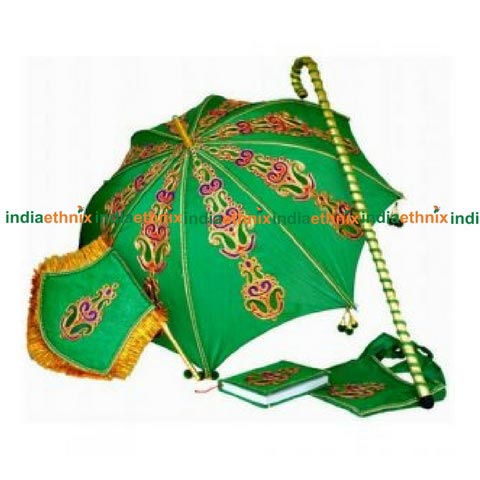 Marriage Kasi Yatra Decorated Umbrella – Dark Green
129.99$
FREE SHIPPING FOR ORDER ABOVE $75.00
In stock
Description
Marriage Kasi Yatra Decorated Umbrella – Dark Green
Kasi yatra set with silk cotton fabric decorated with rich kundans, brooches, and laces.
The groom is dressed in the traditional "Panchakatcham" veshti. He also holds an umbrella, a fan, a walking stick, and a towel containing dhal and rice tied to his shoulder. He then sets off on a mock pilgrimage to pursue further religious studies, and renounce worldly pursuits. As he steps out of the wedding hall, the bride's father intervenes and advocates for the superiority of married life to an ascetic life. He also promises to give his daughter as a companion to face the challenges of life. The groom accepts and returns to the mandapam to get married. The umbrella is to remain with the groom, to remind him in the future of this advice.
The South Indian Wedding  product-Marriage Kasi Yatra Decorated Umbrella-Dark Green is available online in the USA at www.indiaethnix.com and will be shipped at your doorstep!
Disclaimer: The images shown are for reference only and actual product may vary some times, as IndiaEthnix Team always works to get better & quality products with utmost customer satisfaction!
Additional information