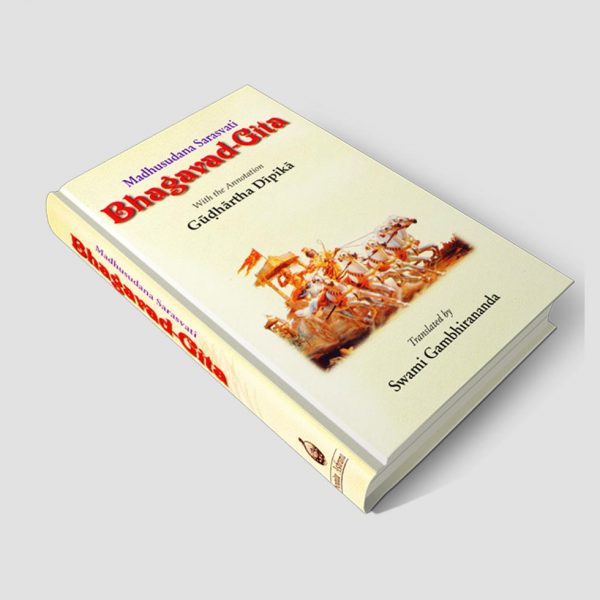 Bhagavad Gita in English by Madhusudana Sarasvati
25.99$
FREE SHIPPING FOR ORDER ABOVE $75.00
10 in stock (can be backordered)
Description
Bhagavad Gita in English by Madhusudana Sarasvati
The Srimad Bhagavad Gitai (Kadamai Moolam Kadavul) is a message addressed to each and every human individual to help him or her to solve the vexing problem of overcoming the present and progressing towards a bright future.

This Holy Scripture is not just an "old scripture", nor is it just a book of "religious teachings", nor even a Hindu holy book. It transcends the bounds of any particular religion or race, and is actually divine wisdom addressed to mankind for all times, in order to help human beings face and solve the ever-present problems of birth and death, of pain, suffering, fear, bondage, love and hate.

It enables man to liberate himself from all limiting factors and reach a state of Perfect balance, Inner stability and mental peace, complete freedom from grief, fear and anxiety. Within its eighteen chapters is revealed a human drama.

This is the experience of everyone in this world, the drama of the ascent of man from a state of utter dejection, sorrow and total breakdown and hopelessness to a state of perfect understanding, clarity, renewed strength and triumph.
The Indian ethnic book Bhagavad Gita in English by Madhusudana Sarasvati is available online in USA at www.indiaethnix.com and will be shipped to your Home!
Disclaimer: The images shown are for reference only and actual product may vary sometimes, as India Ethnix Team always works to get better & quality products with utmost customer satisfaction!
Additional information