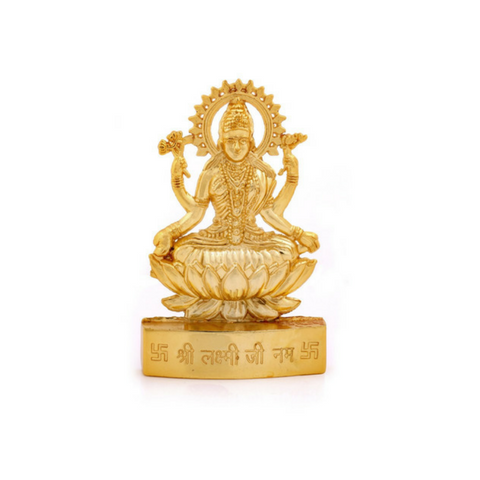 Brass Lakshmi Devi Idol
49.99$
Delivers in: 10 to 15 business days
FREE SHIPPING FOR ORDER ABOVE $75.00
Minimum Order Qty 6 Pcs
Weight: 510 grams
Size:  6 inch
Out of stock
Description
Brass Lakshmi Devi Idol
This Brass Lakshmi Devi Idol is a beautiful, unique & gorgeous hand work on solid metal brass figure of hindu goddess Lakshmi. Bless your place and heighten the beauty and spirituality of your house or work place with this Handmade Hindu Goddess Lakshmi Sculpture.
Lakshmi is the Hindu goddess of wealth, prosperity, fortune, and the embodiment of beauty. She is the wife and active energy of Vishnu. Her four hands represent the four goals of human life considered proper in Hindu way of life – dharma, kama, artha, and moksha. Representations of Lakshmi are also found in Jain monuments. In Buddhist sects of Tibet, Nepal and southeast Asia, goddess Vasudhara mirrors the characteristics and attributes of Hindu goddess Lakshmi, with minor iconographic differences.
This Handmade Hindu Goddess Lakshmi Sculpture is fully artisan crafted in India, making it a truly authentic figurine. This Handmade Hindu Goddess Lakshmi Sculpture is designed in brass using sand casting technique and has a golden color to it.
Place this calm art piece in your living room for an effervescence beauty or gift it to your loved ones before he/she enters a new phase in life. It represents the power of the Supreme Being who removes obstacles and ensures success in human endeavors.
Complete the decor of your home in the utmost of style or add some Indian flair to your living room decor. Order this Handmade Hindu Goddess Lakshmi Sculpture today!
Height : 6inchs
The Indian ethnic product – Brass Lakshmi Devi Idol is available  online in USA  at www.indiaethnix.com and will be shipped at your doorstep!
Disclaimer: The images shown are for reference only and actual product may vary some times, as India Ethnix Team always works to get better & quality products with utmost customer satisfaction!
Additional information