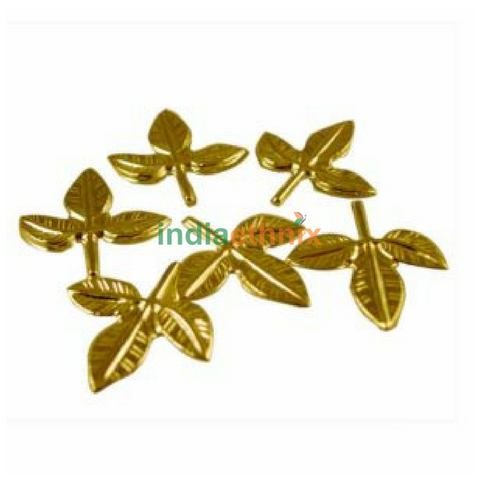 Gold Plated Silver Bilva Pathra Leaves (108 Pcs)
129.99$
FREE SHIPPING FOR ORDER ABOVE $75.00
Sold Out
Description
Gold Plated Silver Bilva Pathra Leaves (108 Pcs)
This product contains Gold Plated Silver Bilva Pathra Leaves (108 Pcs)
Each coin is in the shape of Bilva Pathra Leaves. Indian puja items online in the USA
Coins used for Shiva Puja & Gifting.
Silver purity is 85%.
It is believed that new "Dhan" or some form of precious metal is a sign of good luck.
It is believed that offering prayers to Sri Mahalakshmi with Bilva Patra showers the worshipper with abundant wealth and prosperity.
Its Vedic tradition to worship Shiva with Tulasi Dalam and Lord  Venkateswara (Vishnu) with Bilva Dalam during the Karthika Masa.
Package Contains:108-Pieces of Gold Plated Silver Bilva Patra Leaves for Puja.
The Indian ethnic product-Dhokra Tribal Art Wall Frame White&Red is available the USA at www.indiaethnix.com and will be shipped at your doorstep!
Disclaimer: The images shown are for reference only and actual product may vary sometimes, as IndiaEthnix Team always works to get better & quality products with utmost customer satisfaction!
Additional information