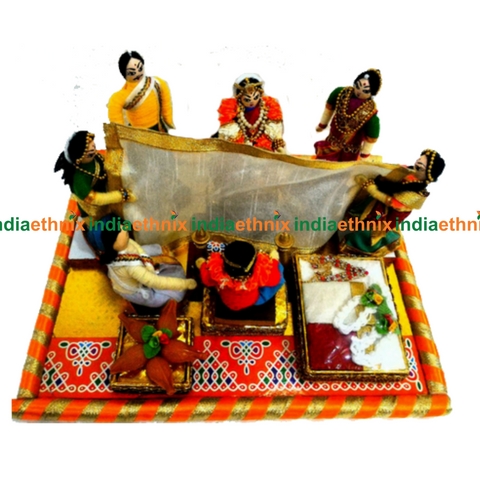 Wedding Doll-Addutera
129.99$
FREE SHIPPING FOR ORDER ABOVE $75.00
Available on backorder
Description
Wedding Doll-Addutera
An Indian wedding is a grand ceremony, a string of festivities filled with music and dance, rites and rituals.Dressed as a bride, groom, their parents and relatives, wedding  dolls are resplendent in  beautiful traditional attire with silk and zari work and the beauty of Indian marriage customs. These Wedding dolls  bring alive the beauty and grandeur that mark the joyous celebration of a traditional Indian marriage, in your home!
Wedding Doll-Addutera  resembles  am important   event during South Indian Marriage where bride and groom do not see each other  durign this event with the help of a sacred cloth called-Addutera.
The South Indian Wedding Product-Wedding Doll-Addutera is available online in USA at www.indiaethnix.com and will be shipped at your doorstep!
Disclaimer: The product delivery may take time for 10-15 days due to the multi steps process involved over several days in making these precious dolls. The images shown are for reference only and actual product costume may vary sometimes.And IndiaEthnix Team always works to get better & quality products with utmost customer satisfaction!
Additional information