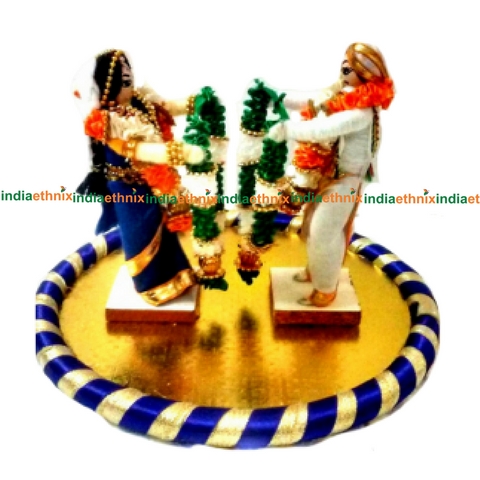 Wedding Doll Varamala
79.99$
FREE SHIPPING FOR ORDER ABOVE $75.00
Available on backorder
Description
Wedding Doll Varamala
An Indian wedding is a grand ceremony, a string of festivities filled with music and dance, rites and rituals.Dressed as a bride, Wedding Fantasy doll is resplendent in a beautiful traditional attire with silk and zari work (gold and silver colored thread inlay) and also wears elaborate Indian-styled bridal jewelry created just for her. From her sparkling head ornaments to her splendid jewelry, colorful bangles, and shining nose ring, she is a true sight to behold!
Wedding Doll Varamala resembles that One important aspect of the Indian marriage is the varmala ('garland').Varmala is exchanged between the bride and groom during the marriage.
The South Indian Wedding  product-Wedding Doll Varamala is available online in  the USA at www.indiaethnix.com and will be shipped at your doorstep!
Disclaimer: The product delivery may take time for 25-30 days due to the multi steps process involved over several days in making these precious dolls. The images shown are for reference only and actual product costume may vary sometimes.And IndiaEthnix Team always works to get better & quality products with utmost customer satisfaction!
Additional information